October 2, 2016 I just received notification of endorsement from the National Federation of Independent Business (NFIB) nfib-endorse-sept-2016 As early as my first term (2001-2002) I was recognized for a pro-busioness voting record (NH Biusiness Review). "Jobs and the economy" top so many lists of citizen concerns that I think this is important, and I'm proud to have the endorsement.
October 1, 2016 was the Merrimack Business Expo and Fall Festival. It was great to talk to all the folks who stopped by the booth and to see so many Merrimack residents and businesses staffing their own booths. A great day.
September 24, 2016 Just got back from the NHGOP Convention at St. Anselm College. Most of our time was spent on discussing this year's platform, mostly based on the 2014 platform which had been tweaked by the Platform Committee. Several floor amendments were voted on, but in the end the amended platform was adopted without dissent. I kept looking for all the divisiveness that we keep reading about in the press, expecting fisticuffs in the aisles. None of that. We all had a great morning and left with excited anticipation for successes in November. Go Trump.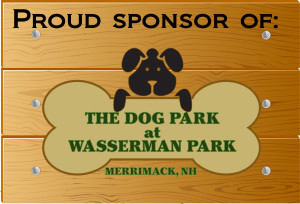 MERRIMACK WATER
Link to DES     Link to DES well test map
On March 23, I was pleased to address the NH Water Pollution Control Association.  At that time we were just getting started in the investigations surrounding PFOA contamination in Merrimack and Litchfield wells.  The links above give current updates on this issue.  Later in the month, the Governor signed SB 380 into law,  establishing the drinking water and groundwater trust fund and establishing the New Hampshire drinking water and groundwater advisory commission.  I am pleased to report that I was appointed to the advisory commission.  I am optimistic that the advisory commission  will be able to direct funds to a variety of clean water projects.  The trust fund for these water projects was established with funds that came from a lawsuit of contamination by MtBE, a gasoline additive that leaked into groundwater from various sources, mostly gasoline storage.  tanks.   While there may be PFOA clean up funds from Saint. Gobain, I note that the MtBE lawsuit took over ten years to reach a final settlement.  As chair of the Oil Fund Disbursement Board (we oversee cleanup and monitoring of MtBE contamination) for many of those years, this was a big win.
I wish to thank Merrimack voters for re-electing me in the Town Elections to another term as Trustee of Trust Funds.  We manage Capital Reserve Funds for the Town, School District and Merrimack Village District as well as funds that have been given to the Town to support schools, library, cemeteries, etc.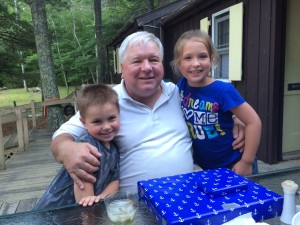 A summer weekend at camp with grandchildren Caden and Clara
Fiscal agent: Ken Wilson, Merrimack, NH